— NEW eBook! —
Identifying Communication Gaps Between Patients & HCPs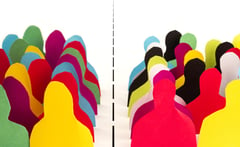 20 minutes, tops. That's the average interaction between HCPs & patients in a typical visit. We know that gaps in communication occur and that effective patient-physician communication is often linked to adherence. So what can be done to fill in the blanks and by whom?

This new eBook explores the relationship between patients & HCPs and highlights the communication gaps that exist before diagnosis, at diagnosis, and as treatment continues.
Want more? Contact us now for an in-person or over the phone presentation for you or your team.